Local Online Advertising Options | To Pay or Not to Pay?… That is the Question!
When I speak with business owners about local online advertising I often find that they are overwhelmed and confused by the alphabet soup of - PPC, CPC, SEO, SERPs, Twitter, Facebook, social marketing, search marketing, organic search and paid advertising.
In this article I'll attempt to clear up this confusion and set you on a course of action that makes sense and works.
Keeping Online Advertising Simple
In the end, you can cut through the majority of the alphabet soup by breaking your options into two major categories: "Paid" and "Unpaid".
Paid Local Online Advertising
While there are literally dozens of different ways to spend money on paid local online advertising the single most relevant, effective and easy to implement is Pay per Click advertising.
Pay per Click (PPC)
Originally pioneered by Yahoo through their Overture program many years ago, today pay per click advertising (PPC) is almost universally synonymous with Google AdWords the way Kleenex is synonymous with tissues. So since all the systems work about the same, we'll take a look at the "Big Dog" which is AdWords.
How It Works - Search-Based PPC
Any time you search for something in Google you will notice up to three paid advertisements at the top of the SERP (Search Engine Results Page) and up to 10 advertisements along the right side of the page.
These are AdWords advertisements and as the name pay-per-click suggests you get charged a fee every time anyone clicks on your ad – whether they take any further action or not.
While like all things Google. the exact formula that determines which ads are shown in what order is a closely guarded secret our testing and research has shown the following variables to be extremely important:
relevance of the keyword the advertiser is bidding on to the search term

the click-through-rate (CTR) of the advertisement

the quality of the page linked to the advertisement

how much the advertiser is willing to pay per click.
Pros and Cons of Search-based PPC
A big plus for pay-per-click is that in a matter of hours you can create a Google AdWords account, create an advertisement and if you're willing to spend enough money, be on the front page of Google search.
A second big plus is that if you know what you are doing you can create highly targeted advertisements that will only show to the exact demographic you are interested in targeting.
The drawbacks to PPC are considerable. First, PPC rates have skyrocketed over the last five years. For example, just a few years back you were able to buy AdWords advertisements for the keyword phrase "Sales Training Chicago" for little over $1.00 per click. Today, each of those clicks will cost you over $5.00!
Second, developing and managing a cost effective and productive campaign requires an enormous amount of skill and experience in multiple disciplines from writing ad copy to developing high converting webpages that meet Google's mysterious and ever-changing "quality" score standards.
Finally, multiple eye tracking studies have shown that most web users (your potential new customers) completely ignore both the top paid listings as well those along the side.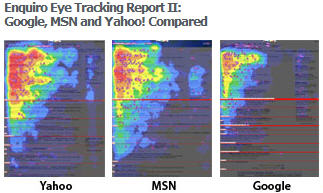 Source: Enquiro.com
So while the good news is you only pay for those people who click on your advertisement the bad news is that most of your new potential customers never see your ad, and if they do, they know it's a paid ad and therefore judged as less trustworthy than organic search results.
Free, Natural and Organic Local Online Advertising
The "free", "natural", or "organic" search engine results are the 10 listings that appear on the SERP for the term you searched. For any given search term there will be anywhere from a few to a few hundred pages of search engine results returned to you when you search.
Now you may be thinking "search engine results are not advertising" and that's where you and most other local business owners would be wrong! Search engine results and the webpages that they lead to are one of the most effective forms of advertising ever created!
They May Be Natural and They May Be Organic But They Are Definitely Not Free!
Advertising, by definition is: the action of calling something to the attention of the public especially by paid announcements.
Well, in order for your website to appear on the first page of the search engine results page (remember- 89.71% of all searchers never go beyond Page 1) you must have, at the very least:
purchased a domain name

paid to have a website created or create one yourself (and I know your time is not free!)

invested time, money or both to optimize your website!
So, according to the definition of advertising an organic listing is most definitely online advertising!
How It Works | Making Organic Local Online Advertising Effective
Google and the other search engines don't just deliver the results you see in some random fashion. In fact, quite the opposite is true and each search engine (but in particular Google) uses an ever-changing complex algorithm to determine exactly what results to show.
Our testing and independent research indicate that the following are critical elements in these algorithms:
the quality of your webpage content

the relevance of your webpage content to the search term

how your webpage is constructed (title, keyword density, linking structure)

page loading speed

the number and quality of other webpages linking to your webpage.
Get these elements correct and you will be rewarded with a Page 1 SERP listing, get them wrong and at best you will be lost in Page 2 or beyond and at worst you will be banned from the search results altogether.
Search engine companies such as Google hire the brightest minds in the world to constantly tweak their algorithm to provide the optimum user experience.
All of the tricks and "Black Hat" tactics that worked five years ago no longer work; keyword stuffing, meta-tag stuffing and link farms have all gone by the wayside. Google is simply too smart to be fooled for long.
Pros and Cons of Organic Local Online Advertising
The big plus for organic local online advertising is that it is highly targeted and highly effective. In a recent study by BIA/Kelsey and comScore 90% of all local consumers surveyed indicated that they relied upon search engine results to help them make their product and service purchasing decisions.
As the eye tracking studies above indicate, having Page 1 search engine listings for your most important buying phrases is an almost guaranteed way to get more new customers. A second big plus is that although it is not technically "free" organic search advertising remains extremely cost-effective.
Once you have the fundamentals in place to get ranked and convert visitors to customers, or at least start conversations the ongoing maintenance and improvement costs are relatively small, especially as compared to pay per click.
There are two drawbacks to organic local online advertising. The first is that unlike PPC you cannot have an organic campaign up and running in a matter of hours. Depending upon how competitive your local marketplace is for the products and services that you provide it can take anywhere from a few weeks to six months or more to get to the first page of the SERPs for each of your most important buying phrases.
The second is that even in markets with relatively little competition it takes significant expertise, energy and effort to get all the factors in Google's puzzle to correctly lineup. (This is especially true for building the back links necessary to grab a number one listing which, by the way, gets approximately 40% of all the clicks on page 1).
So unless you want to spend a disproportionate amount of your own most precious asset, your time, you will need to hire a company that has local organic online advertising expertise, such as FetchLocalCustomers.
The good news is that as compared to yellow book, direct mail, newspaper, and radio advertising a complete turnkey local online organic advertising system is quite inexpensive to get rolling and even less expensive to maintain.
Want a simple, low cost, low risk way to get started with FetchLocalCustomers?
We have the perfect solution...
Introducing our inexpensive, high-performing, super-cool Local Directory Submission Service! (you heard the drum roll, right?) This is the perfect way for you to get results while you get to know us and... YOU DON'T EVEN NEED A WEBSITE! Seriously!
Of course a website makes it even better but don't let not having one stop you.
***
Still looking for more information? I highly encourage you to download and read the "10 Things You Must Know about Local Business Marketing before You Invest Another Dime".
Or if you prefer, simply call 888.505.6162 and speak with one of our local online advertising specialists who can guide you through the entire process to make sure you make the best decision possible for you and your business.