---

---
How Would You Like to Simultaneously Build and Protect Your Online Reputation, Brand & Profits?
Online Reputation Management has been around since 2007 but TODAY you need a comprehensive Reputation Marketing system to protect and leverage your brand.
Why? Three Primary Reasons.
First, Google, Yahoo and Bing are weighting online reviews in their local search algorithms now more heavily than ever.

Third, unless you have a sterling, 5-Star brand all of your other marketing and advertising investments are being compromised.
In a recent Harvard Business School Study distinguished Professor Michael Luca found that a 1 Star rating increase on Yelp could lead to an increase in revenue of up to 9% for local restaurants. Imagine the impact a 1 Star increase (or worse, a 1 Star decrease!) could have on the revenues of your medical or dental practice, painting company, remodeling company, accounting practice , law firm – any business for that matter!
Do I have your attention now – because this is really important. Watch this video to get the whole scoop.
Local Reputation Marketing - Rest Assured, You've Come to the Right Place
If your business is like ours, you probably get inundated with spam calls and emails from "experts" who make all sorts of claims and promises but have no credentials to back them up.
That's not us! Our Chief Strategist, Scott Metcalfe has been featured on top industry sites such as Mobile Marketer Daily, Mobile Commerce Daily, Business2Community and AllThingsD so you can rest assured that we actually deliver the goods!
Online Reputation Marketing that Fetches New Customers
Focusing on reputation management alone, while not a bad thing, kind of misses the point.
What you really want is MORE CUSTOMERS? Right? Thought so!
Well fortunately, we've created simple to implement and cost effective programs that:
· Protect and Enhance your Online Reputation – to get you more phone calls
· Monitor your Online Reputation – so you know what is being said & can take action
· Increase your Local Search Engine Rankings – so you dominate the competition
AND, most importantly Increase the Number of New Clients You Get Each Month!
You see, what no one else seems to understand is that when integrated into a comprehensive Local-Mobile-Social strategy, reviews can dramatically improve your businesses' online revenue creation.
Seriously.
And you know what the best part is? With programs for every budget, it won't cost you an arm and a leg to get started.
Want to learn more?
Start by getting your Free Online Reputation Report and then give us a call to learn how FetchLocalCustomers can help you Simultaneously Build and Protect Your Online Reputation, Brand & Profits. 888.505.6162
Get your Free Online Reputation Report!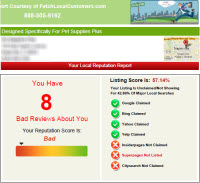 Your Free Report Will Show
How Visible Your Business is in Your Local Online Market
How Many Bad Reviews are Lurking Out There and Damaging Your Brand
Where Those Reviews Are
PLUS...
You'll get access to free training on how you can begin to repair your online reputation.
Did I mention that this is all FREE courtesy of FETCHLOCALCUSTOMERS?

Did You Know?
70% of consumers Consult and Trust Online Reviews when making purchases?
97% of local purchasers search online when making their purchasing decisions?
What Are People Saying About YOUR Business?
Get Your Report & Learn!